Service Dog | Pet ID Tag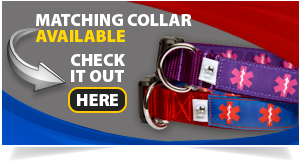 Service Dog - Pet ID Tag. Each design is offered in two different color schemes. Our two-sided custom tags have an aluminum core with a strong polymer coating. The design is permanently fused onto the tag, guaranteed to never fade or wash away. A high-quality metal split ring is included for easy collar attachment.
Various shapes and sizes available including - Small Round 1.00", Medium Round 1.25", Large Round 1.50", Star, and Dog Bone. See tag size comparisons below the main picture.
Please remember to include your pet's name and contact information when placing an order.
Allow 3 - 5 business days for the elves to create your tag.
For other more pet tag design options visit Custom Pet Tags or Funny Pet Tags
Top quality
These tags are of great quality so much to choose from any type you want, I have ordered many times for all of my animals and will continue to do so !! I also recommend her ☺️ when I know someone is looking for great quality tags for their pet
Only 1 problem
I wish there was another line for her license number. I think this should be required for ALL service dog tags. It's too easy to get these for dogs that ARE NOT SERVICE DOGS. That's just wrong.
You can put your license number in the address section. That is on the owner to get the paper work required.
Service dog tag
Received very quickly and wording on back the was perfect.
Service dog tag
This is my second time ordering my Service Dog Tag for Harley Quinn. It was perfect again! Thank you.
Perfect service tag
The tag was exactly as described and exactly what I wanted. Couldnt be happier. Not cheaply made at all and fast shipping. Will be ordering more.