Medical Alert Pet ID Tag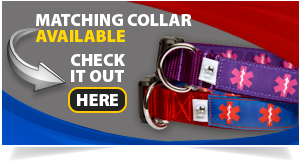 Medical Alert Pet ID Tag
Aw paws Medical Alert Pet ID Tag for dogs or cats is a great way to display your pets medical information. It could be lifesaving in some situations. Our two-sided custom tags have an aluminum core with a strong polymer coating. The design is permanently fused onto the tag, guaranteed to never fade or wash away. A high-quality metal split ring is included for easy collar attachment.
Various shapes and sizes available including - Small Round 1.00", Medium Round 1.25", Large Round 1.50", Star, and Dog Bone. See tag size comparisons below the main picture.
Please remember to include your pet's name and contact information when placing an order.
Allow 3 - 5 business days for the elves to create your tag.
For other more pet tag design options visit Custom Pet Tags or Funny Pet Tags
Nice ID Tag
I purchased a medical alert tag (and collar) for my rescue dog with a liver shunt. She is very thin and I worried if she ever got loose and someone found her, they would think she was not cared for and not try to find her owner. They also would not know how to take care of her to manage her condition, so having a tag that indicates her illness is extra peace of mind for me. The tag itself is very sturdy, and I appreciate that it was shipped so quickly.
Medical Alert Tag
I have a small Pom and the small is a perfect size. The tag stands out and can be read. I would recommend it.
Love it
As pictured and easy to read. Fast delivery. Will order again.